Hermann Neubert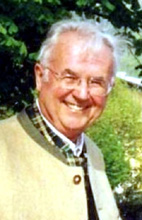 Hermann Neubert was born at 23th January, 1935 in Mannheim (Baden-Württemberg, Germany). He studied jurisprudence at the University of Heidelberg and completed his law's degree with a doctoral thesis. Since 1966 he worked at the district court Bühl (Baden-Württemberg) as judge, later as director until his retirement in 2000.
In the Sixties his interest in natural sciences and especially mycology arised. He came in contact with members of the local mycological society "Pilzverein Stuttgart" (e.g. Hans Haas and Otto Baral) and published his first paper on a higher fungus (Neubert 1969). It was 1965 as he studied his first slime mould, Trichia favoginea. The first five myxomycete samples collected by him dated back to 1970.
After that time Hermann Neubert focused his mycological activities on this group of protists and became one of the best experts not only on taxonomy, but also on ecology of myxomycetes. He collected a great number of slime moulds in the following years and held close contact with other specialists in this field, e. g. with Ella Nannenga-Bremekamp. Several species were described by him as new for science, e.g. in the genera Cribraria and Lamproderma and numerous myxomycete species were reported for the first time in Germany. Consequently, with his friends Karl Heinz Baumann and Wolfgang Nowotny, later supported by Heidi Marx, he published a lavishly illustrated monograph for the myxomycetes of Germany and adjacent Austria in three volumes. Altogether sixteen scientific contributions with him as author appeared.
In 11th August, 2003, Hermann Neubert died in Bühl. An obituary honours his life and work. The scientific remains of Hermann Neubert were divided between the Staatliches Museum für Naturkunde Karlsruhe (KR) and the SNSB – Botanische Staatssammlung München (M). His myxomycete collection with around 7,500 herbarium specimens and microscope slides is now housed in München. The data are accessible on the internet via searchable web interface.
Bionomia analysis of the Neubert collection: The Myxomycetes Collections at the Botanische Staatssammlung München – Collection of Hermann Neubert